Regency London was a bustle of letters and intrigue. Hereinafter, the letters exchanged between characters during the episode of Taboo are grouped together. The letters, generally read by voice-overs of the sender, are listed in order of appearance.
Season One
Edit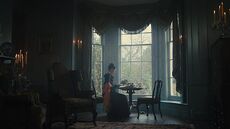 Zilpha Geary's First Letter
Edit
Note: This letter, intercepted by Thorne Geary, was not sent. Instead, it was sent an unidentified letter wrote under Thorne's supervision, devoid of pleas.
Robert Thoyt's Letter
Edit
A letter was written by Delaney's attorney, soliciting the sale of Nootka Sound. The letter, however, was burned by James Delaney without reading it. The content was known to Brace because Thoyt used to send letters with the same request to Horace Delaney too.
Zilpha Geary's Second Letter
Edit
James Delaney's Blank Letter
Edit
An envelope containing a rough diamond addressed to Zilpha Geary, with no further line of explanation.
James Delaney's First Letter
Edit
Zilpha Geary's Third Letter
Edit
James Delaney's Second Letter
Edit
Zilpha Geary's Fourth Letter
Edit
James Delaney's Third Letter
Edit
Zilpha Geary's Fifth Letter
Edit
James Delaney's Fourth Letter
Edit
Zilpha Geary's Sixth Letter
Edit
Countess Musgrove's Invitation
Edit
An invitation to a soiree at Musgrove House in Milford Road, addressed to James Delaney and a guest. [3]
Atticus' Letter
Edit
The corpse of one of the henchmen hired by East India Company to interrogate Helga's prostitutes, along with a card bearing the line "Died on Company Business," intended to be a message for Sir Stuart Strange. [3]
Chichester's Appeals to the British Crown
Edit
A series of application to a higher court requested by George Chichester on behalf of Sons of Africa to the British Crown to investigate the deaths of many Africans during the slave trade at the hands of the East India Company; In particular, the wreck of the Cornwallis. [4]
Zilpha Geary's Suicide Letter
Edit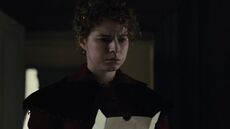 Lorna Bow claimed that Horace Delaney was often writing her long love letters during courtship, along with "beautiful letters" addressed to his own son, describing places he visited in his journeys. However, none of these letters have ever been shown, or read on-screen.
Most of the letters were written by Zilpha Geary to James in the first season of the miniseries.
References
Edit
Community content is available under
CC-BY-SA
unless otherwise noted.